Here is the (nearly) completed "Vintage" quilt top for our Simply Retro challenge for the month of May. 3 months down, 9 to go!!
I say nearly completed because it lacks but 2 strips of the outer sashing. I had some trouble with this months quilt, particularly in lining the blocks up to join neatly. I couldn't get all the points and fraying bias edges to meet to my satisfaction, no matter how carefully I tried.
My solution, after having slept on the problem, was to give each block a mini sashing – using the strips I had already cut for the outside, and cutting them in half. The sashing finished up at 1 1/4 inches wide, not enough to detract from the pattern, but enough to trick the eye into thinking things were lined up better than they were! Once it's quilted, you will never know the difference!
The other drama for the month was working with this soft shot cotton from Spotlight. The colour, called Fuchsia is absolutely gorgeous. It's a dark pink cross woven with a lighter pink, although the overall effect does lean towards purple a little bit. However, due to the buttery soft weave, that made it quite easy to cut up, it also frayed. A lot. I can see that this quilt is going to be densely quilted over all those seams, so that there isn't wear issues later on down the track with washing. Because I make these gorgeous pieces of textile art to live with and use, not to admire. They aren't so precious that you can't cuddle up on the lounge with the ones you love. It's a great big quilty hug!!
Just loving all these amazing saturated colours. It makes quite a statement, although the pops of yellow and orange stop it from being too saccharine girly I think.
So there ends May. I have the fabric for those last 2 sashings, as well as a backing fabric I picked up, so in all my spare time (cough cough) I will get onto quilting all these babies up!
See previous posts about this quilt HERE and HERE, as well as March and April challenge quilts. Don't forget to have a look at Sharon's and Angie's quilts for this month too!!
Linking up with: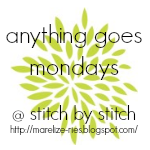 Please be aware that there may be affiliate links in this content. Your support allows me to keep creating for you!
You may also enjoy reading