I can't believe it's the end of November – the end of the year is already upon us! I have been quietly busy behind the scenes with a few projects, most importantly being helping my wonderful younger son with a thankyou gift for one of his teachers.
He is changing schools to one closer to home at the end of this year, and he will be so sorry to leave some of the amazing teachers and friends he has made behind. One teacher in particular was absolutely key to his starting out right into high school, getting into a great routine and study strategy, and his amazing grades this year are credit to this start. So, he decided to make her a quilt to say thankyou and for her to always remember him.
While he has been sewing up a storm I was able to potter around in the studio, close enough to give advice and pinning help, but able to tidy up, finish up some projects and plan some more quilts. I have come across a few patterns and ideas that I wanted to share with you all too!
Alyce Blyth, from Blossom Heart Quilts has released her beautiful starry sampler pattern (originally published in Make Modern magazine) as a BOM project.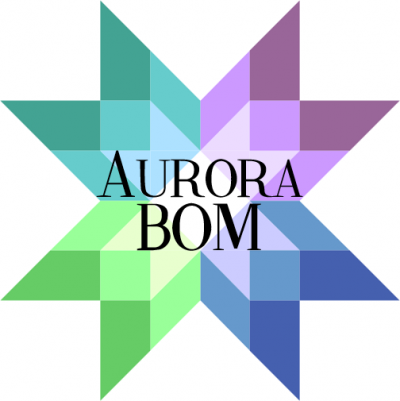 To quote Alyce:
I am a beginner quilter, can I make this?
Absolutely! The most important feature of Aurora is that is a very beginner-friendly pattern, with all step-by-step instructions and colour diagrams included for each block. In fact, we cover a range of patchwork units, from flying geese and half-square triangles, to triangles-in-a-square and scrappy/improve triangles. So it's the perfect opportunity to work on these skills, and end up with a fabulous quilt to show off for it!
For all those new to quilting, particularly joining in maybe from the Farmer's Wife 1930's Sampler, this is a great project to refine your quilting skills and you will have a gorgeous quilt to show for at the end of the 6 months. All for the super low price of $19.95. I've seen a lot of her patterns and they are always full of hints, information and detail so you are never left wondering what to do. Great value for money! Get all the information and link to sign up HERE!
I have never been one for a mystery quilt, but Cora's Quilts had me intrigued with their Gypsy Queen mystery quilt along. The quilt was revealed last week, but I'm not going to spoil it for you….
The pattern was revealed over 14 weeks and the finished quilt was just stunning, I can't wait to give this one a go. The pattern is free until the end of the year and will then go into their store. Find all the weekly links and information on their site right HERE. While you are visiting, check out their quilt alongs for the Legend of Zelda and for Super Mario Brothers. Both of which I must make for my family of geeky men!
Patterns that I have recently bought and added to my must make list include Shimmer, a September release from Allison at Cluck Cluck Sew. She currently has 30% off all patterns in her shop until Monday night, US time, so it's a great chance to buy!
Of course, I couldn't say no to a forest full of friends…. Fancy Forest from Elizabeth Hartman is right up there on my must sew NOW list!!
Of course, we mustn't forget to add the Dottie Angel Frock-along which Jess at Scrappy n' Happy is launching tomorrow!!
I will be posting on Friday with some ideas for pleats and pockets, so make sure to drop back by then and see what I've been dreaming up!
So tell me, what pattern or project is calling to you at the moment? Got any quilting itches that you just can't help but scratch?
Please be aware that there may be affiliate links in this content. Your support allows me to keep creating for you!